---
Legal Consequences of Cheating At Poker : Part 4
---
Poker in brick and mortar casinos and card clubs is a much different bread than the home poker game. Brick and mortar establishments are usually very organized and include an official bank, a dealer for the table, and some method of charging customers for play, usually either a pot rake or fixed fee. The size and culture of a brick and mortar card room can be intimidating to new poker players or first time visitors and as a result these enterprises usually cater to a more advanced group of poker players.
---
Best Choice For USA Players: Claim a 100% BOnus up To $2000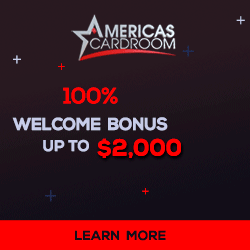 Americas Card Room
Americas CardRoom accepts players worldwide including the USA. Currently we can offer you a 100% bonus up to $2000 on your first deposit. Click the visit button below to check it out. If asked use referral code RECENTACR
---
The legality of brick and mortar poker facilities closely resembles that of home poker games in that the laws differ depending on the jurisdiction. Usually it is safe to assume that if you see a large sign or advertisement for a casino or card club, it's probably legal in that area. If lawful in a jurisdiction, official gaming commissions, or other agencies, are typically set up to monitor the industry and ensure the public confidence in the establishments. With sophisticated commissions come laws and statutes that dictate harsh punishments for when both the house and the player cheats at poker. It should be noted that unlawful underground brick and mortar facilities can be found in almost all jurisdictions and are infamous in big cities such as New York. These clubs are usually the result of no legal poker in a community, but can also be associated with organized crime and rampant cheating.
Skillful Cheaters Methods
Just because brick and mortar casinos and card clubs have bankers, dealers, fancy chips, felt tables, surveillance, and sometimes security forces that rival small countries doesn't mean they're immune from cheaters. Casinos and clubs often follow generally accepted rules of the game that can be abused and overcome by skillful cheats. Some soft methods of cheating in brick and mortar games include pretending to bet, call, or fold out of turn or verbally stating one bet and then pushing out more chips (verbal is the final say) to elicit a response from other players.
A string bet is a common dishonest move in which a poker player doesn't get all the chips required for the raise into the pot in one motion; the strategy behind this move is to put out enough chips to call a bet, determine what affect it has on a player, and then possibly raise the bet. Most of the time these actions are made accidentally by inexperienced table players and warrant a warning; however, a skilled player might only need to use the trick once to accomplish their goal.
Skillful cheaters have other options available to them when in a brick and mortar casino or poker club. A player looking to get an advantage at a ring game might attempt to introduce fake chips into the game since chips go to other players instead of the house and there is less likelihood that the counterfeits will be discovered.
Collusion in ring games and tournament poker occur when players tip off their hands with clandestine gestures, allowing conspirators to raise pots in ring games and dump or consolidate chips to one player in tournament play. Since chips are limited in tournament play, the chip leader usually has a great advantage and often cheats will attempt to fold over or pass chips to a schemer in an attempt to dominate the tournament.
Cheating doesn't always occur exclusively between players, often times a cheating player is in cahoots with the house, or a dealer, to beat other players. Since most players usually consider the dealer to be a neutral professional, they often overlook the possibility of the dealer fixing the deck to feed an accomplice winning hands for a cut of the profit, leaving it up to the establishment to catch the cheating.
Overall, anyone cheating at a brick and mortar casino or card club is engaging in extremely risky behavior since if caught they can face strict civil and criminal legal consequences.
When a player feels they have been cheated at a brick and mortar poker club, by either the club or players in the club, a civil action is their best chance to recover their losses. In Vu v. California Commerce Club, Inc., plaintiff was a regular at the California Commerce Club, a lawful brick and mortar card club, where he played variations of poker and over a two year period lost approximately $1.4 million. Over two separate instances plaintiff contends that he was cheated out of $120,000 by two players who colluded by signaling their hole cards and betting accordingly.
Furthermore plaintiff claimed that a poker manager for the club funded play for other players and tipped them off with vocal and hand signals, as well as marked cards. Plaintiff asserted causes of action for fraud, conversion, conspiracy to convert, and breach of a covenant of good faith and fair dealing against the defendants. With plaintiff lacking sufficient evidence, the court held for defendants stating that the defendants could not be held liable for the general gambling losses of the plaintiff. This case demonstrates how difficult it is for a plaintiff to show proof that they were cheated in a brick and mortar establishment.
For a plaintiff to meet the burden of proof that a casino or card club engaged in cheating is not an easy task when it comes to civil litigation. In Zaika v. Del E. Webb Corp. plaintiff alleged that defendant, owner and operator of Sahara Hotel in Las Vegas, Nevada, cheated at a card game by using a deck of 53 cards (instead of the required 52). The extra five of spades, plaintiff claimed, gave the house an extra advantage and as a result he lost a considerable amount of money and brought an action for fraud, conspiracy to defraud, breach of implied contract, and breach of quasi-contract.
A thorough investigation by the Nevada Gaming Control Board ensued and the Board concluded that Sahara Hotel was not guilty of any improper action and that no refund of plaintiff's losses was necessary. Accordingly, based on the Gaming Control Board's investigation, the court held in favor of defendant. This case shows the power that the Gaming Control Board has when it makes a recommendation to a court after investigating a cheating allegation.
Please Note This is a 7 Part Article :
Room
Bonus Code
Review
Bonus
Visit
Americas CardRoom
RECENTACR
Review
$50 Free Then
100% Match to $1000



Bovada Poker
1349384
Review
100% Match Bonus
Up To $500



Ignition Poker

1349384
Review
100% Match Bonus
Up To $2000



BetOnline Poker
No Code Needed
Review
200% Match Bonus
Up To $2000