---
Legal Consequences of Cheating At Poker : Part 7
---
As far as criminal charges for online poker cheats go, there are no statutes or laws in the United States specifically related to cheating at online cards. It seems more likely that a poker cheater would be criminally liable for simply playing online poker, rather than for cheating at it. Even in a state such as California, where US online poker is tolerated and poker cheaters can be prosecuted regardless of whether they play in casinos, clubs, or home games, law enforcement agencies have no authority to prosecute an online poker player for the specific act of cheating.
Until the United States government takes a stance on online poker and perhaps sets up a commission to supervise and scrutinize online gaming operations, victims of online cheating will have limited legal recourse.
---
Best Choice For USA Players: Claim a 100% BOnus up To $2000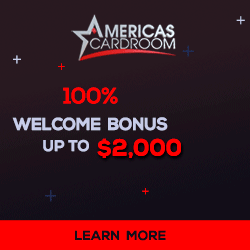 Americas Card Room
Americas CardRoom accepts players worldwide including the USA. Currently we can offer you a 100% bonus up to $2000 on your first deposit. Click the visit button below to check it out. If asked use referral code RECENTACR
---
A player who cheats at online poker may not have much to fear from the law, but there are other non-legal consequences that can be imposed by the poker sites. PartyPoker, the largest online poker destination, has terms and conditions that the player implies consent to when they begin playing on the site. According to the terms and conditions, a player that is found in breach of any rule or regulation of Party Poker is subject to account termination and money forfeiture.
Furthermore, the site states it will share the breaching player's identity with other US online gaming sites, banks, credit card companies, and other appropriate agencies. Whether actions like these taken by a gaming site are fair and legal is for investigation in another article; however, these consequences are intimidating considering that a player has little or no legal recourse if they are wrongly accused of cheating and their money is seized by the online site dictatorship.
Once a player is informed on the methods a poker cheater uses in homes games, brick and mortar casinos and clubs, and online, it is next necessary to learn basic countermeasures that can be used to protect the sanctity of poker. When participating in a home game, especially in a state less tolerant of the activity which is less likely to grant relief in a court of law, players should keep the game between friends and close acquaintances, dismissing strangers that come in pairs or that are only in town for the night.
Instead of relying on an older deck of cards that may have been tampered with, make sure more than one unopened deck of cards is available and inspected immediately prior to play. To maintain organization, any specific rules or variations should be discussed prior to play and the group should be in agreement about betting limits or tournament rules. All players should be vigilant of bizarre play or teamwork occurring at the table and at no time should the deck leave the sight of the group. To be extra safe, players should avoid consuming alcoholic beverages, as they have been known to make an honest man cheat, however if doing away with alcohol is impossible, dealing from a shoe and using an automatic shuffler will help guarantee the validity of the game.
When playing at a brick and mortar casino or card club, players usually have a dealer, pit boss, security force and surveillance system to assist them in hunting down cheats. Regardless of the extra help, players should take care in looking at their down cards as poker cheats, either at the table or looming behind, are also be interested in taking a peak. At all times a player should keep their chips organized and located safety in font of their seat and when involved in a hand, a card protector (such as a chip) should be used to keep the cards from flipping over or being accidentally grabbed by the dealer.
If during the game a player suspects another player is cheating, the player should not confront the cheater but instead step away and inform a pit boss or security officer. If a player suspects the dealer or an in-house person is cheating them, they should take down as many details about the situation as possible and then report the situation to the jurisdiction's proper agency or gaming commission in a timely fashion.
Online poker is by far the most difficult area to avoid cheaters. If a player is going to play online poker they need to understand that everything they deposit into the online account could be taken without cause or recourse and that they likely have no legal protection from cheaters. Online players should be watchful over who is sitting at their tables and, if possible, players should search for their opponents elsewhere on the site to avoid opponents sitting at multiple tables with the same players.
The best way to avoid cheaters online is to play heads up poker or at two player tables, that way collusion is impossible and you know you have a human player on the other side. If an online player suspects they have been cheated at a table, it is imperative that they do not confront or accuse the player (usually done by typing into a community chat box) as this can cause the accused to retaliate with false claims about you to the online site, possibly disrupting the honest player's account with a lengthy investigation.
If a player suspects online cheating, they should take down as much information about the situation as possible and contact the poker site either by telephone or email as soon as possible. In general, if a player is going to engage in online poker, they should steer clear of tempting bonuses and freebies from newer and smaller sites and focus on the larger and more established sites in the Internet.
Overall poker is a sociable, exciting, and fun game and players from all over the world cannot let cheaters ruin the integrity of the game. For as long as poker has existed there have been cheaters trying to profit from it, but at the same time society has acted to protect honest players though the legal system, gambling commissions and agencies.
As society and the law continue to respond to the game of poker, players will find themselves better protected in all variations of the game played in all different arenas. Poker needs to be protected as it is more than just a game of cards, it is a part of American culture and history, perhaps best summed up,  "I believe in poker the way I believe in the American Dream. Poker is good for you. It enriches the soul, sharpens the intellect, heals the spirit, and – when played well, nourishes the wallet."
Please Note This is a 7 Part Article :
Room
Bonus Code
Review
Bonus
Visit
Americas CardRoom
RECENTACR
Review
$50 Free Then
100% Match to $1000



Bovada Poker
1349384
Review
100% Match Bonus
Up To $500



Ignition Poker

1349384
Review
100% Match Bonus
Up To $2000



BetOnline Poker
No Code Needed
Review
200% Match Bonus
Up To $2000