---
Keeping A Cool head While Playing US Online Poker
---
A day of online poker can be seen as a long, drawn out battle. In that battle are many short confrontations that set the tone for future battles. After all the smaller battles have been completed, someone will be broke and going home. Keeping a cool head throughout every single individual online poker battle is the only way to be victorious in the long run. Once you lose your patience and focus, it's all but over.
---
Best Choice For USA Players: Claim a 100% BOnus up To $2000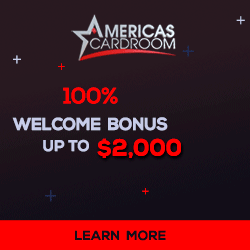 Americas Card Room
Americas CardRoom accepts players worldwide including the USA. Currently we can offer you a 100% bonus up to $2000 on your first deposit. Click the visit button below to check it out. If asked use referral code RECENTACR
---
What I'm talking about is tilt, but really, it's more than that. Going on tilt is the ultimate way to lose your US online Poker money. Nobody I know will claim they play better when they are on tilt. If they say so, use some insight to figure out if they're telling the truth. Going on tilt affects your thought process, gets your adrenaline going and will eventually force you to make a mistake, if you don't control it.
Just as a quick example, you have just been two-outed on the river. The guy across from you smirks, claps, jumps up and down; he just rubs it in your face. The very next hand you have K-10 under the gun. That same player reraises you, so you decide that you want revenge and push all-in. He insta-calls and shows pocket kings, which of course hold up.
Now, if you weren't on tilt you would not have:
(1) Raised under the gun with K-10,
(2) Reraised him all-in with K-10,
(3) Let your emotions affect your decisions
Clearly, this is an exaggeration, but I promise you that players whom you have played with have felt angered by a beat you have put on them and have wanted to get their poker chips back instead of finding a better source.
Admit it. We've all done it. The guy at the table whom you just don't like has taken a poker pot from you. Instead of looking at one of the weaker players to steal and slowly grind back up, you go right back after your "enemy." And, instead of winning the next poker pot, just give him more of your lifeline. Part of avoiding tilt comes from the experience. You've been there before, the beat will happen, and when it does, you have to move on. If you feel that you aren't ready to move on, don't play another hand. Take a break. Walk away from the table or even get up to go. Nobody is forcing you to play that next hand and of all people, you need to convince yourself that you are in no shape to ante up.
If this is a poker tournament, you need to think differently; you can't just leave, but you can walk away. You risk missing an opportunity to pick up a big hand, but even then, what's to say that the hand will hold up? Getting blinded away is a better decision than playing while steaming.
So how do you keep a cool head?
One strategy to use is to remember that each poker hand is only that, one poker hand. After each hand, mentally, start over. Give yourself a check list. Count your poker chips, take a deep breath, get dealt your cards, act on them.
When it comes to a "rival" poker player, you need to take this out of the equation. You do not have a rival poker player. The only time you need to focus on defeating one poker player is when you are heads up. Besides that, everyone else at your table is trying to take your money, and if you aren't paying attention, they will.
Every poker player should be deemed as the same. Yes, some will be more talented than others and there will be some that you know you can take advantage of. Quite simply, that is an informed decision. For that reason, you should pick on this player if you know you have an advantage. If you don't feel that you have an advantage and are going after a certain player out of spite, you are making a mistake.
Don't let your emotions get the best of you. If you really want to get back at your opponent, make sure you're the one who takes home the most money. After all, isn't the best way to get revenge to have someone else take care of your dirty work? Let the action on the table dictate itself. If you happen to end up knocking out your hated poker rival, great. If not, hopefully you enjoyed watching him sulk as he walked away from the table.
Room
Bonus Code
Review
Bonus
Visit
Americas CardRoom
RECENTACR
Review
$50 Free Then
100% Match to $1000



Bovada Poker
1349384
Review
100% Match Bonus
Up To $500



Ignition Poker

1349384
Review
100% Match Bonus
Up To $2000



BetOnline Poker
No Code Needed
Review
200% Match Bonus
Up To $2000