---
Legal Consequences of Cheating At Poker : Part 3
---
One of the first cases on card cheating was the Vermont case of Preston v. Hutchinson, which involved a cheated poker player bringing a civil action against the cheater for restitution for his $272 loss. Plaintiff claimed that while playing a home poker game of brag (similar to poker) with three other people, these individuals worked together to take as much money from the plaintiff as they could with the intention of sharing the proceeds equally.
---
Best Choice For USA Players: Claim a 100% BOnus up To $2000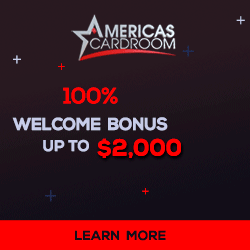 Americas Card Room
Americas CardRoom accepts players worldwide including the USA. Currently we can offer you a 100% bonus up to $2000 on your first deposit. Click the visit button below to check it out. If asked use referral code RECENTACR
---
Defendants claimed that during the poker game, money was passed back and forth between all the players and that any collusion was incidental to the outcome of the poker game. The court held for plaintiff, stating the three confederates unlawfully, and fraudulently, broke the accepted rules of the game of poker when they decided to collude and share profits. Further the court held that each confederate was jointly and severally liable, thus each defendant would be held liable for the plaintiff's total poker loss.
In jurisdictions where poker home games are unlawful, courts have to decide whether a cheated poker player can recover damages when they in fact are engaging in an illegal activity. In the Oklahoma case of Grim v. Cheatwood, plaintiff alleged that defendant enticed him to participate in a poker game with crooked players who used collusion and marked cards to cheat. During the poker game the plaintiff was unaware of the cheating and collusion and subsequently ended up surrendering $1,000 worth of mineral deeds the defendants to cover his losses.
Upon later discovery of the dishonest poker game, plaintiff brought this action to cancel the mineral deeds despite the fact that the poker game was against the law. The court said that the general rule is that losses sustained in an illegal gambling game may not be recovered by the loser, however, since the plaintiff was playing honestly and was unknowingly cheated with the use of marked cards, the parties were in fact not in pari delicto and equity will intervene to protect the less guilty plaintiff. The dissent in this opinion found it clear that the plaintiff was in error for getting involved in the poker game in the first place and advocated that courts should decline to distinguish between degrees of turpitude of parties that engage in outlawed transactions.
Can cheating player be criminally prosecuted?
The above mentioned cases show that cheating poker players can be held liable in a civil action under the right circumstances, but can a cheating player be criminally prosecuted? In order for a cheater to be prosecuted, it is necessary for the jurisdiction to have a statute forbidding the activity and a law enforcement agency willing to prosecute. In U.S. v. Britton, Captain Britton often participated in a regular poker game with fellow United States military officers. On two different occasions the deck used by the group was found to be short two cards and after being confronted it was discovered that Britton was secretly hiding cards in his pocket for use later in play. The court found Britton guilty of two specifications of cheating in a card game in violation of 10 USC §933, conduct unbecoming of an officer and a gentleman,10 U.S.C. §934, conduct that brings discredit to the armed forces, as well as a charge of gambling with an enlisted man. Britton was sentenced to dismissal and forfeiture of $350.
In the Kansas case of State v. Terry, defendant was playing a game of five card stud poker when he was charged with a felony for participating in the deal, play or practice of a confidence game or swindle. If convicted, defendant was facing a fine not to exceed $5,000 and not less than $2,000 and no more than five years confinement in the state penitentiary. Defendant argued that five card poker was a game of skill and unlike other card games did not inherently involve cheating other players. The court held that poker did not apply to this criminal statute as it found the poker to be based on skill, however the court did point out that defendant was still in violation of state law and guilty of a misdemeanor for participating in a gambling game.
Home game poker cheaters need to also consider the consequences of their actions outside of the law. Even in the most casual home games with friends and family, a caught cheater faces dire social consequences. If the cheater can make it off of the property alive, without someone taking the law into their own hands, the cheater still has to live with the adverse reputation of being a swindler. The fast spread of negative news regarding cheating friends in a social home game could create new obstacles in a cheater's social life, professional career, and family life. Overall, if a player cannot resist the temptation to cheat in the casual atmosphere of a home game, they should head to the closest brick and mortar casino or card house where cheating is a whole different ball game.
Please Note This is a 7 Part Article :
Room
Bonus Code
Review
Bonus
Visit
Americas CardRoom
RECENTACR
Review
$50 Free Then
100% Match to $1000



Bovada Poker
1349384
Review
100% Match Bonus
Up To $500



Ignition Poker

1349384
Review
100% Match Bonus
Up To $2000



BetOnline Poker
No Code Needed
Review
200% Match Bonus
Up To $2000