---
Legal Consequences of Cheating At Poker : Part 5
---
A cheater in a lawful brick and mortar casino or club is typically also subjected to criminal charges, as statutes are usually in place to protect the public and US Casinos from this type of behavior. In U.S. v. Ly, defendants, a group of card cheats, conspired with dealers at three Las Vegas hotels (MGM Grand, Desert Inn, and Hilton) to engage in false and trick dealing. Their scheme worked and defendants were able to predict upcoming hands with accuracy and as a result they were able to cheat the casinos out of approximately $768,000.
Room
Bonus Code
Review
Bonus
Visit
Americas CardRoom
RECENTACR
Review
$50 Free Then
100% Match to $1000



Bovada Poker
1349384
Review
100% Match Bonus
Up To $500



Ignition Poker

1349384
Review
100% Match Bonus
Up To $2000



BetOnline Poker
No Code Needed
Review
200% Match Bonus
Up To $2000



Thanks in part to surveillance footage of defendants engaging in cheating at the hotels, defendants were charged with fraud, conspiracy to defraud, interstate travel for purposes of racketeering (they did not reside in Nevada), money laundering, and aiding and abetting, The court found defendants guilty on all counts and held each defendant jointly and severally liable for the money while also remanding the case for further sentencing. It is likely that the defendants in this case were subject to fines as well as some time in prison.
Cheating in a brick and mortar casino or card club is unwise considering the massive security and surveillance team used to watch every move players make. In State v. Malmstrom, defendant was charged with cheating at a Harrah's Casino poker table in New Orleans in violation of Louisiana statute § 4-664 which states that:
"Any person who by trick or sleight of hand performance, or by a fraud or fraudulent scheme, wins or attempts to win money or property or a combination thereof, or reduces a losing wager or attempts to reduce a losing wager in connection with gaming operations, shall be imprisoned at hard labor for not more than five years or fined not more than $5,000 or both."
While engaged in a lawful game of poker, defendant was caught by casino surveillance distracting the dealer of the game so he could increase a wager to win $156. The court found defendant guilty and the cheater was fined and sentenced to serve fifteen months at hard labor.
As long as brick and mortar casinos and card clubs have been in existence, cheaters have tried, and usually failed, to gain a dishonest advantage. Besides legal consequences, these establishments have long had a reputation for taking the law into their own hands, often by taking suspected or caught cheaters into a backroom and detaining, intimidating, and sometimes threatening them with violence.
While it is unclear how often those tactics are used today, it is certain that a caught cheater can be blacklisted from nearly every gambling establishment on earth. With technology improving and security forces working together, a cheater's face and record can be sent out to thousands of casinos and card clubs within minutes, giving all enterprises the information they need to seek out and keep out crooks. Once a poker cheat has destroyed their reputation with friends, family, colleagues, and the international gambling scene, it may seem there is nowhere left for them to turn, however over the past few years a new alternative has emerged that gives poker cheaters the perfect place to practice their trade.
Please Note This is a 7 Part Article :
---
Best Choice For USA Players: Claim a 100% BOnus up To $2000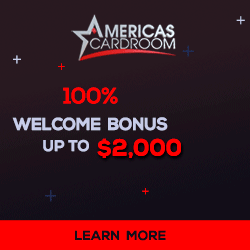 Americas Card Room
Americas CardRoom accepts players worldwide including the USA. Currently we can offer you a 100% bonus up to $2000 on your first deposit. Click the visit button below to check it out. If asked use referral code RECENTACR
---