CoinPoker stands out as a groundbreaking online poker platform that combines the excitement of poker with the security, transparency, and convenience of blockchain technology and cryptocurrency. With its user-friendly software, diverse game selection, and enticing promotions, CoinPoker offers a unique and enjoyable gaming experience for poker enthusiasts of all skill levels. All USA players are welcome at coinpoker.
By leveraging the power of blockchain and its native token, CHP, CoinPoker ensures that its games are secure, fair, and accessible to players around the world. Whether you're a seasoned poker pro or a newcomer looking to try your hand at the virtual felt, CoinPoker is an excellent choice for an innovative and engaging poker experience.
---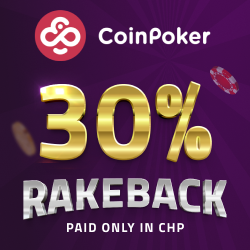 CoinPoker
Are you ready to embrace the future of online poker and experience the benefits of playing with cryptocurrency? Coinpoker offers 3 different first deposit bonuses, up to $1100 and you may claim each one. All USA and Worldwide players welcome
---
CoinPoker is a unique online poker platform that leverages the power of blockchain technology and cryptocurrency to offer a secure, transparent, and user-friendly gaming experience. Launched in 2018, CoinPoker has attracted a growing number of poker enthusiasts who appreciate the advantages of playing poker with cryptocurrency. In this comprehensive review, we'll take a deep dive into the various features and aspects of CoinPoker, including its software, game selection, promotions, and more.
CoinPoker Bonuses
CoinPoker offers an attractive welcome bonus to new players, rewarding them with a generous amount of CHP upon their first deposit. This bonus is a great way for newcomers to boost their bankroll and explore the platform without risking too much of their own funds. Coinpoker offers 3 different first deposit bonuses, which are the following: You may claim each bonus 1 time.
100% up to $100 deposit $100, get $100 bonus
100% up to $300 deposit $300, get $300 bonus
100% up to $700 deposit $700, get $700 bonus
In addition to the welcome and deposit bonuses coinpoker offers the following promotions.
Freerolls and Leaderboards: To keep players engaged and incentivize regular play, CoinPoker hosts daily and weekly freeroll tournaments, as well as leaderboards that reward the most active and successful players. These promotions not only provide additional opportunities to win CHP but also foster a sense of competition and camaraderie within the CoinPoker community.
Special Promotions and Events: CoinPoker regularly runs special promotions and events, such as rake races, bounty tournaments, and holiday-themed contests. These offers provide extra incentives for players to participate in the platform's games and tournaments, while also adding an element of excitement and variety to the gaming experience.
CoinPoker and the Power of Cryptocurrency:
CoinPoker is a revolutionary poker platform that utilizes blockchain technology and its native token, CHP, to facilitate secure, transparent, and fast transactions. By harnessing the power of cryptocurrency, CoinPoker eliminates the need for traditional banking methods and provides its players with a seamless gaming experience. The platform was developed by an experienced team of poker enthusiasts, blockchain experts, and software developers who share a passion for combining cutting-edge technology with the thrilling world of poker.
Software and User Interface
CoinPoker's software is designed to provide a smooth and user-friendly gaming experience. The platform can be accessed via a downloadable client for Windows, Mac, and Linux, as well as through a web-based interface for those who prefer to play in their browser. CoinPoker's user interface boasts sleek and modern graphics, with a visually appealing color scheme and well-organized layout. The table designs are clean and uncluttered, allowing players to focus on their game without any unnecessary distractions. Users can also customize their playing experience by choosing from various table themes, card decks, and avatars.
Navigating the CoinPoker platform is straightforward and intuitive, even for those who are new to online poker. The lobby provides easy access to cash games, tournaments, and sit-and-go events, with filters available to help players find their preferred game type, stakes, and table size. The software also includes a range of useful features, such as hand history, player notes, and multi-tabling options, making it easy for players to keep track of their progress and develop their poker skills.
A Variety of Poker Games and Formats
CoinPoker offers a diverse range of poker games and formats to cater to players of all skill levels and preferences. The platform's game selection includes popular poker variants such as Texas Hold'em, Omaha, and Omaha Hi/Lo, as well as innovative game types like Short Deck Poker.
Cash Games: CoinPoker's cash game selection includes a variety of stakes and table sizes, allowing players to find the perfect game for their skill level and bankroll. The platform also supports both No-Limit and Pot-Limit betting structures for Texas Hold'em and Omaha games.
Tournaments: CoinPoker hosts a wide range of tournaments, including multi-table events, sit-and-gos, and freerolls. The platform offers daily and weekly guaranteed prize pool tournaments, with buy-ins ranging from just a few CHP to several thousand. CoinPoker also hosts satellite events for major live poker tournaments, giving players the chance to win their way to prestigious events around the world.
Unique Game Formats: In addition to traditional poker games, CoinPoker features unique game formats designed to enhance the playing experience. One such example is Short Deck Poker, a variant of Texas Hold'em that uses a 36-card deck and offers increased action and larger pots due to its altered hand rankings and increased probabilities.
Transparency Through Blockchain Technology:
Decentralized Random Number Generation:
One of the key advantages of CoinPoker's blockchain-based platform is its use of decentralized random number generation (RNG) for dealing cards. By utilizing smart contracts and cryptographic hashing, CoinPoker ensures that the shuffling and dealing process is completely transparent and tamper-proof, thereby eliminating the risk of cheating or manipulation.
Player Fund Security:
CoinPoker's use of cryptocurrency also provides enhanced security for players' funds. All CHP deposits and withdrawals are processed directly on the blockchain, which ensures that transactions are secure, transparent, and irreversible. This eliminates the need for third-party intermediaries and reduces the risk of fraud or misappropriation of funds.
Provably Fair Games:
CoinPoker's commitment to transparency and fairness extends to its game outcomes. All hands played on the platform can be independently verified by players, who can use the provided hand history and cryptographic hashes to confirm that the RNG was fair and unbiased.
Are you ready to embrace the future of online poker and experience the benefits of playing with cryptocurrency? Sign up for CoinPoker today and discover the thrill of blockchain-powered poker. Don't miss your chance to join a growing community of players who are already enjoying the advantages of secure, transparent, and lightning-fast transactions. Register now and claim your welcome bonus to start building your CHP bankroll! Register Here.
---
Room
Bonus Code
Review
Bonus
Visit
Americas CardRoom
RECENTACR
Review
$50 Free Then
100% Match to $1000



Bovada Poker
1349384
Review
100% Match Bonus
Up To $500



Ignition Poker

1349384
Review
100% Match Bonus
Up To $2000



BetOnline Poker
No Code Needed
Review
200% Match Bonus
Up To $2000