---
Sneaky Ring Game Poker Strategy
---
The following information should dramatically help you in your ring game strategy. A ring game of Texas Hold'em is played at a table with 3-10 players.
As with any poker game, you must have a proper Texas Hold'em ring game strategy. A ring game poker strategy is much different than tournament, sit-n-go, short handed or heads up strategies. Although you wouldn't think it, the fixed blind structures, stack sizes, and number of players changes the dynamics of the game, which you have to properly adjust to.
---
Best Choice For USA Players: Claim a 100% BOnus up To $2000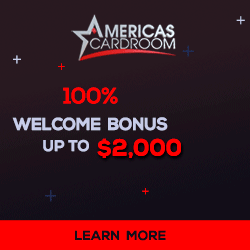 Americas Card Room
Americas CardRoom accepts players worldwide including the USA. Currently we can offer you a 100% bonus up to $2000 on your first deposit. Click the visit button below to check it out. If asked use referral code RECENTACR
---
Having the right strategy will help to build up a solid foundation for any US online poker ring game table you play at, maximizing your profits and minimizing your losses. However, first of all, you must understand the rules when playing at a full ring table at a site like Ignition Poker. You cannot remove any chips from the table. In these games, the betting and blinds remains the same through various stages of the game.
Once you know the basic rules of the game, you can develop a Texas Holdem ring game strategy. You can learn a lot about Texas Holdem ring game strategy by joining several popular poker training sites as well as playing full ring holdem games at online poker sites.
The first step in developing a strong ring game strategy is to focus on the bets. Your aim is to wager bets that have the best chance of giving you the maximum return. Second, you must have the self-control to stop playing once you cross a predetermined limit for every session of play. This will help you manage your bankroll better to prevent you from going broke.
The next step in Texas Holdem ring game strategy is to develop a smart betting strategy. You must think before you make every bet since there should be a good reason for betting. Your betting strategy must take into account your hand strength and the players you are up against.
For the most part, you should look to play your hands fast and look to get maximum value from players who don't like to call and will chase draws with incorrect odds. As the game progresses, you may get a better read on your opponents and bluff with more frequency when you expect them to be weak and fold. When you're seen as being aggressive, your image will help you to get paid off when you actually have a big hand.
You must modify your strategy depending on the type of game and the ever-changing situation in every round of a game. Having the ability to adapt to your specific table will sharpen your overall poker knowledge and skills and give you a better advantage over other players.
A big part of the Texas Holdem ring game strategy is to choose the right combination of starting hands. This gives you a winning advantage right from the beginning and improves your chances of winning. At a table with 9 to 10 players, you don't want to be playing hands that can easily be dominated, as the chances are likely that someone has a good hand, especially when you don't close the action and there are still lots of players to act.
Your playing position in each hand also determines your Texas Holdem ring game strategy. If you are playing a hand in late position, you can play a wider range of hands when it's been folded around to you. Even when you miss, it will likely be a 2-3 way pot, and a flop continuation bet will likely succeed on many boards.
The Texas Holdem ring game strategy depends on whether you are playing a no limit or a game with a fixed limit betting structure. Then again, in a poker game with a no limit betting structure, you can take a greater risk and bet the maximum permissible limit that is needed to get folds when you expect to have a worse hand. That is, of course, when you can expect the player is capable of folding. Don't overestimate your fold equity, or you will quickly become a spewtard.
It really is crucial that you have a lot of patience when playing ring games. There will always be a few callers, meaning there is a good chance someone caught a piece of the flop. So the majority of the time you will need to play your hand in a straightforward manner, since players don't like to fold when they make any kind of hand, especially in your typical live $1/$2 cash games.
We have all had sessions where you've been card dead for what seems like hours. Or every time you raise with Ace King and catch nothing on the flop. During these sessions, you can take a break or pass a few rounds in the game without forfeiting your position. If you are not mentally prepared and focused to play, you will not be playing as well as you're capable of doing, so step away from the table, a game will always be there waiting for you.
Observing other players and their moves from the get go is an important part of developing reads and not making big mistakes when playing in full ring games. You can pick up on whether you suspect them to be bluffing and the strength of their hands based on these "tells". Thus having a good Texas Holdem ring game strategy gives you an upper edge over your opponents.
Room
Bonus Code
Review
Bonus
Visit
Americas CardRoom
RECENTACR
Review
$50 Free Then
100% Match to $1000



Bovada Poker
1349384
Review
100% Match Bonus
Up To $500



Ignition Poker

1349384
Review
100% Match Bonus
Up To $2000



BetOnline Poker
No Code Needed
Review
200% Match Bonus
Up To $2000