---
Who Are Your Online Poker Opponents
---
When you're playing at poker rooms allowing US players, who are your opponents? They could be anybody, from almost anywhere in the world. They are represented by an avatar, a digital image that is usually a bit cartoonish, and only cough, speak or move if the software allows them to do so. These figures are hard to figure out! Sometimes you may notice that one or more players seem to take a long time making their decisions during a hand. This might be due to the real person's slowness – but it might be due to a slow computer somewhere, the player's or his ISP. It's best to be patient in online games. But the strictly human element is what every player of poker online must observe, and use to his advantage.
---
Best Choice For USA Players: Claim a 100% BOnus up To $2000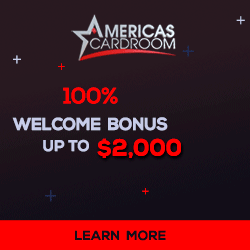 Americas Card Room
Americas CardRoom accepts players worldwide including the USA. Currently we can offer you a 100% bonus up to $2000 on your first deposit. Click the visit button below to check it out. If asked use referral code RECENTACR
---
Poker players online may be doing something else at home at the same time they're in a game. In fact some players urge you to do so! Since online poker prevents you from seeing other players, or getting a psychological read on them, or noticing physical tells (but no one said anything yet about nonphysical tells), the hand you have matters that much more. A bad hand should just be folded and not played. If you're listening to music, chopping vegetables, or busy reading the paper in between moves, or some other small task, some players claim this will distance you from your hand, and the game, and you will be able to look at your cards less emotionally. You will find it easier to fold a poor hand.
Poker experts say that when playing US poker online, tells are unimportant. It's the betting a person does, and when he does it, that provides the information you need. If a player in Hold'em raises right after the flop, it indicates he is raising on one or more cards on the flop.
If he raises immediately after a second Heart shows up, he is raising on a Flush – or at least indicating a Flush. The pattern a player shows throughout the hand must be not intuited, but interpolated. A skilled player considers as many possible reasons why an opponent might raise or call or check at a particular time, and he banks on the most likely, because the person has repeated his behavior in the game.
There are a wide variety of online poker sites. Some are well suited to beginners, or those who simply want to enjoy less competitive poker. If you are more interested in the experience of online play itself than in winning at all costs, then you might look for a site whose software is more realistic, offers a 3-dimensional view of the poker room, and allows the players to chat, move or change their perspective of the game.
Others may care less for the looks of the graphics than how the game is run. Reviews of different poker sites would yield helpful information in that case, as would the numerous poker forums where players are quick to point out pluses and minuses of the various sites they've played. With experience, you'll discover what characteristics are most valuable to you as a player. Trying out more than one is useful, and you'll encounter new features you didn't know you wanted, as you surf.
Room
Bonus Code
Review
Bonus
Visit
Americas CardRoom
RECENTACR
Review
$50 Free Then
100% Match to $1000



Bovada Poker
1349384
Review
100% Match Bonus
Up To $500



Ignition Poker

1349384
Review
100% Match Bonus
Up To $2000



BetOnline Poker
No Code Needed
Review
200% Match Bonus
Up To $2000