---
How to Improve Your Poker When Not in a Hand
---
Just because you are out of the pot, it doesn't mean you should have no interest in the game. On the contrary, now is the time to be most observant of what goes on at the table. Normally when you're playing, you are too preoccupied with your own hand to notice other things. But when you aren't in the hand, you are free to watch the action as much as you need to. These are some of the ways you can make use of your free poker time.
---
Best Choice For USA Players: Claim a 100% BOnus up To $2000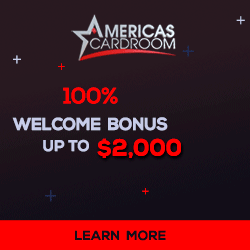 Americas Card Room
Americas CardRoom accepts players worldwide including the USA. Currently we can offer you a 100% bonus up to $2000 on your first deposit. Click the visit button below to check it out. If asked use referral code RECENTACR
---
Read Your Poker Opponents
Specifically, learn to classify your opponents into the main poker player profiles. How each poker player handles their cards, and even their body language, should tell you something about how loose or tight they are. See who calls often, who folds often and who shows down with the lousiest hands. Is someone fond of stealing the blinds? Is a poker player overly protective of their blinds? Keep taking mental notes. Pretty soon, you should already have an idea of who are the calling stations, the rocks, the maniacs, the sharks and the fish are.
Read the Pot
In poker, you need to be able to look, think and act quickly. If you are slow, your opponents will be able to read you or guess what you are contemplating. Part of poker strategy is disguising your moves (poker tells) so people won't know what you are up to. This is one reason why you should learn to measure the pot just by glancing at it. Learn to calculate the amount of money in the pot as fast as you can. Do not  build a habit of looking at the pot for too long, as this can be a sign you have a strong hand that you're looking to get paid off with.
Keep Track of Betting Actions and Showdowns
It is important to know how your poker opponents play and what they play with. Make a mental note of who likes to raise pre-flop, who check raises, who goes all-in, and who bluffs stone cold all the way to the showdown. See if there is someone who always raises with top pair. The showdown is especially helpful since they tell you who plays what hands. Needless to say, these bits of info are invaluable for the times when you are in the hand against these players you're studying.
Follow the Action at the Poker Table
Be as interested in the US online poker game as if you were in it. Follow each step of the poker action as it unfolds. You do not have to verbalize in your mind what is happening (as if with a running commentary). That is actually distracting especially if you're not the type who thinks verbally. But you should keep track of the action. This will not only tell you about how the others play poker; it can also train you to understand poker action.
Keep Records of Your Poker Sessions
Finally, make notes of your poker games. You can do this at the table if it's allowed. Or, if you prefer, you can do it after the game at home. Record the game, duration, location, number of players and results. Write down what you had difficulties with, where you failed and where you succeeded. Record your bets, wins and losses too.
These tips should help you improve your poker game even when out of the pot.
Room
Bonus Code
Review
Bonus
Visit
Americas CardRoom
RECENTACR
Review
$50 Free Then
100% Match to $1000



Bovada Poker
1349384
Review
100% Match Bonus
Up To $500



Ignition Poker

1349384
Review
100% Match Bonus
Up To $2000



BetOnline Poker
No Code Needed
Review
200% Match Bonus
Up To $2000