---
What is a Freeroll Texas Hold'em Poker Tournament
---
Have you watched poker on TV, Twitch or YouTube recently? It is exciting and full of action; here is how you can play in the exact same style of play online, for cash prizes for free.
How I can hear you ask. Well several of the top US online poker rooms will occasionally offer as a promotion a free No Limit Texas Hold'em tournament with hundreds of dollars in cash prizes up for grabs. These tourneys are fast paced and full of new players that you can compete against.
---
Best Choice For USA Players: Claim a 100% BOnus up To $2000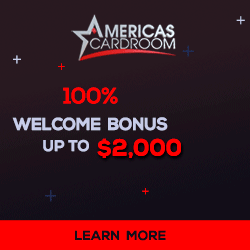 Americas Card Room
Americas CardRoom accepts players worldwide including the USA. Currently we can offer you a 100% bonus up to $2000 on your first deposit. Click the visit button below to check it out. If asked use referral code RECENTACR
---
These US real money online poker sites occasionally run these freerolls in their tournament lobby, I recommend you sign up for any and all of these. The only downside to entering these freeroll poker tournaments with real money prizes up for grabs is that there are normally a lot more entrants than say if you entered a $10 or $25 buy-in tournament.
Every online poker site attracts a certain number of freeroll players that are looking to win something from nothing, however, since they're mostly novice poker players, most of them are not that difficult to beat.
Basic Poker Freeroll Strategy
Playing in a poker freeroll Texas Hold'em tournament is straightforward. All players are given an equal number of starting chips when the tournament begins. It is normally 1000 or 1500 chips. In a no limit Texas hold'em tournament you can bet none or all of your chips in any single hand. There is no thrill quite like pushing all your chips in the middle on a good hand then getting called and going to a showdown with another player.
Generally when you're playing freeroll US online poker tournaments, you want to play tight early on, and only play premium hands. Most freerolls are full of bad players that will be going all-in with rubbish holdings, so it won't be difficult accumulating a big chip stack, and this will put you in a good position to win the tourney.
I recommend you play as many of the freeroll tournaments as possible before possibly playing for real money against better competition. The great aspect of freeroll tournaments is you have none of your own money at risk but are involved in the same decisions as a real money tournament. Eventually you'll want to play in real money tournaments and cash games but this is a great way to learn tournament poker.
How to Trap Your Opponents in Tournament Play
When you have a great starting hand or even better after the flop, and you're playing against an aggressive opponent, do not bet aggressively when the board isn't scary, you want your opponents to believe they have a better hand. This is called trapping your opponents. The majority of the time they will have missed the flop when you've hit the flop hard, and the only way to extract more chips out of them is to allow them to bluff (or value own themselves), which you know they will if you show weakness in the hand.
Check Out These USA Online Poker Rooms