---
The Awesome Value Of A Poker Buddy
---
It really helps to always have a poker buddy or two! Why you ask? Well basically they will be there to bounce ideas and plays off of, scout for good games, watch you for tells, increase your knowledge (assuming they're at the same level or better than you) as he/she reads/thinks about the game, give you a fresh perspective on life, and yank you off the table when you are on TILT, which is going to happen at some point in your poker playing career!
Although not ideal, in reality your US Online poker buddy doesn't have to live near you or even be a real-life friend, although both really help, as long as they are someone who will work with you to improve both of your games. You can communicate via online chat, skype, any number of ways.
---
Best Choice For USA Players: Claim a 100% BOnus up To $2000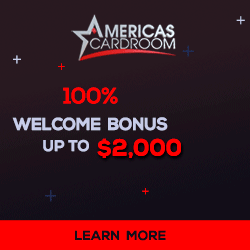 Americas Card Room
Americas CardRoom accepts players worldwide including the USA. Currently we can offer you a 100% bonus up to $2000 on your first deposit. Click the visit button below to check it out. If asked use referral code RECENTACR
---
Bouncing ideas back and forth is a daily thing for me and my poker buddy since we play together quite a bit and use the downtime to discuss hands. He may spot someone's tell I missed or even better if I gave off tells that I need to correct. Also each of us surfs the web or reads poker literature and brings the good stuff back to the other to see what changes can be made that will see positive results. This doubles the amount of information we can cover and add to our arsenal of weapons to use at the poker table!
Also you can throw your ideas over to your PB and he can add to it, expand it, direct it or just plain ol' confirm what you were thinking. A great way to make the most of having an awesome poker buddy when playing yourself is if there is anything suspect going on in the game (collusion, angle shooting, etc.) and I need another set of eyes, although it's not great when playing at the same table and you get involved in a big confrontation with each other. Money is money but you'd prefer taking it from a stranger.
One of the other benefits of a poker friend at your table (or watching your game while they wait for a table) is the support you receive that you played it right even if that peanut head caught his 1 and only out against your monster hand, or that you did in fact bonehead it by calling with the under pocket pair only to make the little full house and lose a ton of chips!
How can you find a poker buddy? Good question. If your immediate friends don't have the same passion for poker as you do, then you will probably have to look past your close circle of friends to meet one. But that's ok, it's fairly easy to find one on the net if you know where to look. Sites like reddit, poker forums, classifieds that list home games, are just a few of the places worth trying out.
Any poker player who is at a similar level to you in terms of skill and knowledge is going to be a good candidate. A lot of players are looking to improve their games and fix their leaks and looking for players to sweat them during online sessions. This can be a good way to bounce ideas off each other as you discuss with the player why they played a hand in a certain way, and you never know, the sweat session could develop into something more, and if they live local to you, it's possible you might even start grinding tournament or cash games together.
All in all just like when we were little and going out to play was always better with a buddy. When playing poker, it works best when you have someone to help you improve you game and make more money. Or if you don't play for money then the two of you are a roving poker party looking for a place to land.
Room
Bonus Code
Review
Bonus
Visit
Americas CardRoom
RECENTACR
Review
$50 Free Then
100% Match to $1000



Bovada Poker
1349384
Review
100% Match Bonus
Up To $500



Ignition Poker

1349384
Review
100% Match Bonus
Up To $2000



BetOnline Poker
No Code Needed
Review
200% Match Bonus
Up To $2000