---
Stealing the Blinds
---
If you are new to US online poker and specifically Texas Hold'em you may hear some terms from time to time that are confusing or that you aren't familiar with. One of those might be "stealing the blinds." Stealing the blinds is a fine art in Texas hold'em that can help you maintain profitability over long stretches of bad cards and sometimes it is a necessary tactic in order to keep your chips on the table.
---
Best Choice For USA Players: Claim a 100% BOnus up To $2000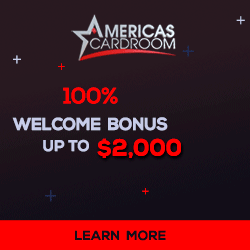 Americas Card Room
Americas CardRoom accepts players worldwide including the USA. Currently we can offer you a 100% bonus up to $2000 on your first deposit. Click the visit button below to check it out. If asked use referral code RECENTACR
---
Stealing the blinds refers to making a calculated move to do nothing more than win the blind bets. Many times in Texas hold'em no one, or very few players, will choose to enter the pot, so it becomes a good strategy to try and steal these relatively small pots. Over time, stolen blinds will add up to a significant amount of money. In the short term it may not seem like all that important of a task, but over time it becomes quite important.
When To Steal The Blinds
Blind stealing is all about opportunity. It's not just something you do because you can or because you haven't stolen the blinds in awhile and you need to. Stealing the blinds is all about recognizing an opportunity and then capitalizing on it. Below we will look at some good situations from which to steal the blinds and how best to go about doing it:
Blind stealing is usually best when you are in middle late or late position. The best opportunity from which to steal the blinds is usually when it has been folded around to you and the only players left to act after you are the blinds or maybe one or two players. A well timed raise in a situation like this is sometimes all that is needed to steal the blinds. There are a few things to keep in mind however. It pays to know your opposition in the blinds well. What are the chances that either the small or large blind will play back at you? If the chances are high, do you have a hand that could take down a pot?
Stealing the blinds in a semi bluff fashion is usually the best. Let's take an example where you are on the button with K9 off suit. Here you can come in with a raise and one of two things will happen. Either the blinds will fold and you win (good) or the blinds will challenge you. If they challenge you, at least you have a hand that could stand a chance to win. You don't have to try and steal with 27 off suit just to make a point. Try to steal when it works to your advantage either way. Your happy if your opponents fold, but you are okay if they challenge you too.
If you are in the small blind, don't get into a sympathetic state of mind by folding to the big blind. If it is just down to you and the big blind, go ahead and raise if the situation is right. By the end of the night the big blind to your left will be so sick of being raised they are bound to make mistakes.
So really blind stealing is all about situational betting and raising. You do it when your chances of success are high and you can win some extra chips. It is not a requirement but you are leaving money on the table if you don't try to steal blinds when the situation at the table is perfect for a steal.
Room
Bonus Code
Review
Bonus
Visit
Americas CardRoom
RECENTACR
Review
$50 Free Then
100% Match to $1000



Bovada Poker
1349384
Review
100% Match Bonus
Up To $500



Ignition Poker

1349384
Review
100% Match Bonus
Up To $2000



BetOnline Poker
No Code Needed
Review
200% Match Bonus
Up To $2000