---
Why Poker Noob's Should Practice Online
---
The card game of poker has been around for a long time and ever since it made a mark in today's tactical sports scene, it has received plenty of criticisms what with all its possible sociological impacts and economic implications. In fact, some even went to the extent of calling the card game as merely, a game of luck. But luckily, this poker stereotype has already been dispelled. Today, we have World Poker Tour or World Series of Poker champions who clearly employ strategic thinking, self-restraint, and a knack for reading tells and bluffs to remain an ace at the poker tables.
---
Best Choice For USA Players: Claim a 100% BOnus up To $2000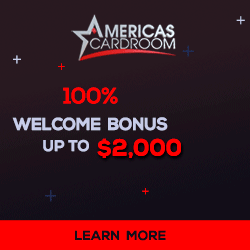 Americas Card Room
Americas CardRoom accepts players worldwide including the USA. Currently we can offer you a 100% bonus up to $2000 on your first deposit. Click the visit button below to check it out. If asked use referral code RECENTACR
---
While the US online poker scene enjoys its stature, we cannot deny the fact that the technological boom we experienced in the past decade has greatly impacted the card game industry. But like an expert player, the industry adapted to the changing conditions and turned a pair of 2's into a pair of aces. Now, we enjoy the benefits of playing at home with the rise of poker's online counterparts.
The most obvious benefit we can derive from playing US online poker is flexibility. Unlike brick-and-mortar-casinos, we wouldn't need to dress up and spend some gas traveling to our local casinos. With a simple click of the mouse, you can turn your living room into a much convenient poker portal now that there are plenty of poker sites online available. This in effect creates another benefit of online poker—knowing which time frame yields the most inexperienced players.
Since virtual poker sites offer 24/7 gaming, you can play at your own time, and the schedule often manifests the types of players present at a particular time frame. Some have already concluded that early afternoon players are often the most inexperienced. And of course, if you are also inexperienced, you can always practice your skills first at low-stakes tables. With the Internets power to offer anonymity, there's almost no embarrassment felt when losing your first few games.
Another advantage of playing online is the absence of tells. This may be a disadvantage for expert players but for beginners who are still grasping the basics of the game, then this setting could be helpful. Since no can read your face or emotion when you hold a good hand or a bad hand, there is no chance for these players to detect your excitement or panic.
Aside from cloaking your identity, most of these virtual sites have lower buy-ins compared to land-based casinos. In fact, these poker sites generally produce a higher payout rate. This gives you more room to learn from your mistakes.
Additionally, online poker has been widely regarded as the breeding place of poker champs. If you look at the German poker champ Pius Heinz, you will find that he developed his A-game first online before eventually participating in major poker tournaments. If you are planning to ace the World Poker Tour, you may want to gather experience and develop your style first at the virtual tables. With the flexibility that these websites offer, it shouldn't be troublesome to hone your skills at home.
Check Out These USA Online Poker Rooms