---
Don't Get Caught Bluffing : A Bluffer's Guide
---
Bluffing should be an integral part of your US online poker strategy. Don't just bluff for the sake of it, but do remember that if you don't use bluffing as part of your poker strategy, you are setting yourself up to fail.
---
Best Choice For USA Players: Claim a 100% BOnus up To $2000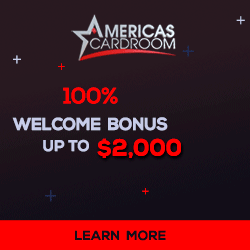 Americas Card Room
Americas CardRoom accepts players worldwide including the USA. Currently we can offer you a 100% bonus up to $2000 on your first deposit. Click the visit button below to check it out. If asked use referral code RECENTACR
---
A good poker player will learn to analyze the tables they are playing at – rate each player according to their style and ability, and know when to apply bluffing tactics as part of their poker game play, as well as when not to try it on.
When Bluffing Goes Wrong
If you get caught out in a bluff when playing at a site like Ignition Poker, don't be tempted to try the same trick again. You may want to regain a position of power, but the chances are your opponents won't buy your move so soon after catching you out in a bluff. Play tight for a while, and hope that your opponents forget your bluff before giving it another shot.
Bluffing Blind
Bluffing from a blind position is very difficult. The other players know that you have a vested interest in the hand, and they're unlikely to buy your move. If someone has already called or raised, it's even harder to bluff. In most cases, we'd say don't do it.
Getting Called
You're more likely to be called by an inexperienced poker player than a veteran. Rookies let their curiosity get the better of them, and are likely to be willing to pay to see what you're holding. Before you start bluffing, get a handle on the style, and experience of the people you're at the table with. Spend the early stages of the game scoping out the players, and save the poker bluffs for later when you know who you're dealing with.
Bluffing The Table
When there are lots of people at the table, it's even harder to pull off a bluff. This is because there's a bigger chance of someone having a good poker hand. Bluffs really start to come into their own later in the game, when fewer players remain, and you're looking at bigger blinds and antes.
Top Bluffing Tips
Attempting a bluff when an ace appears in the flop is often a bad decision. There is a high chance that someone else will still be in with an ace, as very few players fold pre-flop when they hold an ace. This is also true of kings and queens.
After a Big Loss
If you've just lost a big hand, no matter what the reason, don't try to pull a win on the next hand through bluffs. The other players will know that you are 'on tilt', and are more likely to call your plays. You can, of course, use this to your advantage if you do have a good hand.
These poker tips should give you a basic idea of how to use the art of bluffing as an extra weapon in your poker playing arsenal. Serious players know how and when to attempt a bluff, and when used correctly it is a very powerful weapon. Don't overuse it, however, as it can lose its potency.
Room
Bonus Code
Review
Bonus
Visit
Americas CardRoom
RECENTACR
Review
$50 Free Then
100% Match to $1000



Bovada Poker
1349384
Review
100% Match Bonus
Up To $500



Ignition Poker

1349384
Review
100% Match Bonus
Up To $2000



BetOnline Poker
No Code Needed
Review
200% Match Bonus
Up To $2000