---
Things to Bring to a Live Poker Game
---
This article is meant to serve as a guide for beginners wanting a few pointers about things to bring to a live poker game, whether it's for a live poker tournament or cash game. Before diving straight in, you should be mindful of the fact that every casino and card-room has their own policies with regards to what is allowed and not allowed by players, so don't assume that everything listed here is going to be given the ok from the tournament director or poker room manager at the venue you will be playing at.
So without any further adieu here is a list of things to carry with you to a land-based poker tournament or cash game:
Laptop/iPad
With the number of US online poker players that are migrating over to juicy live poker games, it makes sense that a lot of them would want to play online poker whilst at the live tables. For the first time at the 2014 World Series of Poker, players were allowed to have laptops and tablet devices like the iPad at WSOP tables so that it was possible to be able to play online poker at sites like Ignition Poker. This being allowed when a player was not involved in a hand, making it possible to always be involved in action. Given that multi-tabling makes it less likely you will spew as a result of boredom or being card dead, as you can imagine, a lot of players who played online thought it was great that you could grind online during any of the WSOP events.
Besides the obvious advantage of increasing your potential profits to the maximum, having a laptop, iPad, or smartphone on hand can also assist you in taking notes on other player's for future reference, as well as take detailed notes of hands you've played, so you can come back to them for review/analysis away from the table. Because if you've played a long session of poker, it is sometimes going to be difficult remembering every hand you've played, so recording the hand on your laptop/iPad whilst it's fresh in your mind makes a lot of sense and is much more convenient than having to take the notes manually.
Headphones
You will see a lot of live players wearing headphones and listening to music at the tables. There are a few considerations if you are thinking about doing this. First and foremost, if you are wanting to bring headphones with you to a live poker game, you'll want to make sure that listening to music isn't going to slow down the game, as they would be inconsiderate to the other players at the table.
---
Best Choice For USA Players: Claim a 100% BOnus up To $2000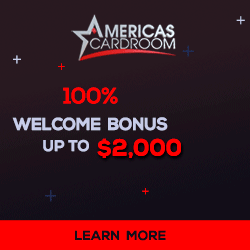 Americas Card Room
Americas CardRoom accepts players worldwide including the USA. Currently we can offer you a 100% bonus up to $2000 on your first deposit. Click the visit button below to check it out. If asked use referral code RECENTACR
---
Some players can remained focused when listening to music whilst others find it to be a huge distraction, so it's really player dependent as to whether it's a good/bad item to bring with you to a poker game. A lot of it also probably has to do with the music you're listening to. Jamming to heavy metal music is probably going to be a distraction, but listening to something like chill-out electronic music, can be relaxing, and help you to stay focused and in the zone while playing. And similar to using a laptop/iPad in between hands, listening to music will keep you entertained and less likely of becoming bored as a result of being card dead.
Card Protector
Bringing a card protector with you to a live poker tournament or cash game doesn't need a lot of explaining. You want to protect your cards whenever you're involved in a hand and if there is something visible on top of them there is less chance of them being inadvertently mucked by the dealer. Some players think it's pointless using a card protector when you could just as easily use a chip but there are situations where you could be all-in and the only chip you have is protecting your cards. In this instance, the dealer could mistakenly muck your cards. It is better just to use a card protector. Some live players have a "lucky" card protector.
Clothes
You'll also want to make sure that you wear something comfortable. I don't think it's necessary to wear sunglasses while playing but each to their own. They don't really hide any tells, most players wear them to prevent other players from knowing they are looking at them. But they can sometimes make it difficult to follow the action. Not wearing sunglasses can also make you look more intimidating and get more folds from your opponents.
A lot of players can be seen wearing hoodies in live tournaments and at the cash tables. Again, it comes down to what is comfortable for you. So many poker rooms will be air conditioned and it can be really uncomfortable/cold and prevent you from playing your A game if you are not wearing one.
So, this is by no means an exhaustive list of things you would want to bring to a tournament or cash game when playing at a land-based venue, but definitely the essentials
Room
Bonus Code
Review
Bonus
Visit
Americas CardRoom
RECENTACR
Review
$50 Free Then
100% Match to $1000



Bovada Poker
1349384
Review
100% Match Bonus
Up To $500



Ignition Poker

1349384
Review
100% Match Bonus
Up To $2000



BetOnline Poker
No Code Needed
Review
200% Match Bonus
Up To $2000